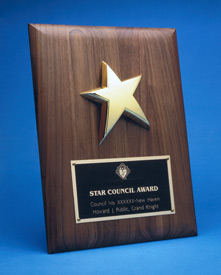 Our local Plymouth Knights of Columbus, Holy Family Council of St. Matthew's has been honored with the award of Star Council. This achievement comes from having active and dedicated members working in various ways to serve our church, community, organization and council. The award is earned by meeting KofC organizational criteria and goals. Our council is fortunate to have members that serve in these areas including the administration of the council, support of the church in numerous ways and serving in it's numerous ministries, supporting an atmosphere of family and for life, working within the community in local food closets, homeless shelter, youth groups, etc. One can find our local Knights throughout our community serving in some fashion…but you may have to look hard, they tend to be quiet about it.
Our council received this honor twice before under Grand Knight John Madore offering leadership supported by Danny Desrosiers as Financial Secretary and of course, a very supporting council. Their work continues to strengthen our council today and drives us forward.
It is a true honor to serve our council!
Gerald DuBreuil, Grand Knight