Our thoughts and Prayers go out for Brother Knights and their families. May our Lord watch over them and give them strength in their time of need…we ask this in the numbers of our entire Holy Family Council.
(If you are aware of any Knight of Holy Family Council or other in distress, send via contact tab)
Jim Bleyle passed away Thanksgiving morning, 11/26/15. Our prayers are with him, his loving wife Laurel who cared for him these many years, and his entire family. Our council remembers Jim for his years of service as a brother Knight including serving as Grand Knight as well as playing a role in the 4th Degree team in standing in as honor guard. Jim was active in many K of C events and offering time to get some of us to degrees to further the future of our council.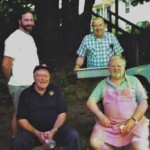 Norm Rainville is home after many weeks in the hospital and rehab. He is looking well and he's been to several events, meeting and Mass to get back in the swing of things. Keep prayers going for Norm as he will be returning to hospital at some point to undergo surgery.